So I am back from Vacation. I had a great visit with my friend in Virginia but was ready to come home. I am sure that it did not have ANYTHING to do with the fact that she has 4 children between the ages of 1 and 8. Not that I don't adore them, but at one point I looked at her smiled and said. "You know, this time next year I will be sending my youngest off to college." I can't repeat her reply here, but use your imagination. I am sure you will be close.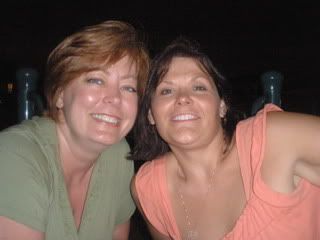 My computer, after spending a week in the hospital with a bill to reflect that (I know Franco, you can build me a new one) is finally up and running again. Sigh of relief. Though I have a love/hate relationship with it...I missed my "stuff" I not only was not able to get to my files and pictures to properly write this blog. I found that I am very dependent on the computer in my day to day cooking. I swear, I cooked before I had one but for the life of me I cannot figure out how. Cookbooks you say? How Archaic!
But I promised you something tasty when the world was right again. (OK, well perhaps just back to my twisted norm) and I am here to deliver.
This is a take on a
Rachel Ray recipe
that I have made several times. You may have noticed pictures of it on the edges of other dishes I have made for you but I have never actually posted this particular recipe and I am not sure why because it is really VERY good and pretty healthy as long as you use the cheese judiciously. Her original recipe was a meatless dish. I have done that as a side dish and it was very good: but, for a main dish, I like to add cooked shredded chicken.
Don't be afraid of the Pablano Peppers once the seeds are removed they are not hot at all. If you are still timid you could just as easily use Bell Peppers instead. Feel free to spice this up with more (or less if you like) Jalapeno.
Charred Chili Relleno
4 large poblano peppers
3 cups frozen corn kernels
2tablespoons vegetable oil
1 red onion, chopped
1 jalapeno, seeded and chopped
4 cloves garlic, chopped
1 (15-ounce) can fire roasted diced tomatoes, drained well
1 1/2 teaspoons ground cumin
1/2 teaspoon dried oregano,
Salt and freshly ground black pepper
1 lime zested and juiced
1 cup shredded Cheese (I used a cheddar-jack blend)
1 cup cooked shredded chicken (optional)
Place poblanos under broiler or on hot grill and char (turning over half way through) about 15 minutes.
Defrost frozen corn and dry by spreading out on clean kitchen towel. Heat 2 tablespoons light oil in a skillet over high heat. When the oil smokes or ripples add corn, onion, jalapenos and toss until the vegetables char at edges and onions are tender, 4 to 5 minutes. Reduce heat to medium-high and add in garlic, fire roasted tomatoes and season with cumin, oregano, salt and pepper. Add shredded chicken (if using) Cook another minute or 2 then turn pan off.
Sprinkle the lime juice and zest over the corn mixture.
Split the charred peppers open but not in half with small sharp knife then scoop out the seeds with a small spoon. Place peppers in a shallow baking dish and stuff each split pepper until cheese is bubbly and beginning to brown.