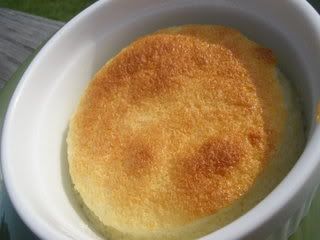 Oh my goodness where has the summer gone? Less than 2 weeks before school starts(the unofficial end of summer) again. I have to admit, I have not been cooking much this summer (at least not much "new" stuff) I have on the other hand I have taken some time for myself and made several trips to the beach, hung out with friends,spent some time with my daughter, just generally relaxed and enjoyed the summer.
I hope that you have also been enjoying the summer and have not noticed my lack of posting too much.But in case you are missing me here is a recipe for a wonderfully light and airy dessert that is great finish for a nice summer dinner. Just a little sweet, just a litte tart and not too heavy. The only downside is it requires the use of your oven. But one look at the pillowy soft "cake layer" over the custard layer and I dare you to say it is not worth it. I found this recipe on a blog called
Patent and the Pantry
Now for anyone who is not familar cooking in a "water bath" let me give you a little instruction so that you can avoid the pitfall( that I had the first time I tried it) of sloshing water into your dish.
Place a kitchen towel in the bottom of the baking dish, place ramikins on towel, place entire dish IN the oven and THEN carefully pour boiling water into the baking pan. When the Cakes are done. Carefully pull out racks a few inches and remove Ramikins from baking dish before removing dish from the oven.
Lemon Custard Cakes
Unsalted butter, at room temperature, for custard cups
3 large eggs, separated
1/2 cup granulated sugar
2 TBS. all-purpose flour
2 to 3 TBS. grated lemon zest (from one lemon)
1/4 cup fresh lemon juice
1 cup milk
1/4 tsp. salt
Powdered Sugar
Preheat the oven to 350. Bring water to a boil. Butter six 6-ounce custard cups, and place them in a roasting pan or baking dish lined with a kitchen towel.
In a large bowl, whisk together the egg yolks and granulated sugar until the mixture is light; whisk in the flour. Gradually whisk in the lemon zest and juice, then whisk in the milk.
With an electric mixer, beat the egg whites and salt until soft peaks form. Add to the lemon mixture; gently fold in with a whisk (the batter will be thin).
Divide the batter among the prepared cups. Place the pan in the oven, and fill baking dish with water to reach halfway up the sides of the cups. Bake until the puddings are puffed and lightly browned, 20 to 25 minutes. Serve warm or at room temperature, dusting with powdered sugar.
Notes:
I am definitely contemplating trying Lime next time and I think orange might also be tasty variation.