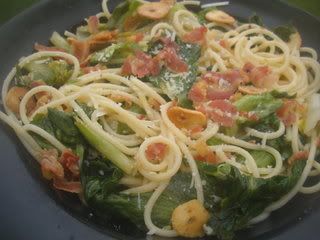 I know that a lot of people don't care for Rachel Ray and personally I could live without quite SO MUCH of her around. I have to admit though, she was the one who really turned me on to The Food Network. This was before cooking and celebrity chefs and what not became so
trendy
. I don't consider myself a nonconformist but I hate to feel like I am following the
masses
. I want to believe that I am doing (or can do) something that not EVERYONE else is doing. So I find it frustrating when I find something I like or I am good at and then suddenly everyone else is doing it too. I want to feel special ...sigh!
ANYWAY! Once again I have gotten off track. Regardless if Rachel Ray is annoying or over exposed I have really learned tons of things from her. If you ever watch her she often reminds you that lots of what she does is just a basic method for making something and it is easy to make it your own. Hopefully without being
quite
so annoying, my cooking style is pretty similar to hers. No measuring, little baking, a few convenience foods mixed in with really fresh stuff where it counts and though I think her stuff takes a bit more than 30 minutes for the average cook, I prefer meals that do not take an extraordinary amount of time to make.
This dish is the first thing from Rachel Ray that I ever made. I follow her original recipe pretty closely because really it is super easy. The only substitution that I make is sometimes I replace the Pancetta with bacon. It is a dish that easily can be made in 30 min and it's really filling and quite tasty! I was surprised at the texture of the escarole after cooking it keeps just enough crunch to give it a great texture!
The only part I find difficult is the garlic chips which are extremely easy to overcook and then become bitter. But I would definitely NOT leave them out they give this dish that little extra something that makes it special. Just cook them on very low heat, watch them VERY closely and remove as SOON as they get a hint of color.
Spaghetti with Pancetta, Escarole and Garlic Chips
Recipe courtesy Rachael Ray
1/2 pound dried spaghetti
Salt
3 tablespoons extra-virgin olive oil
1/4 pound thickly sliced pancetta, chopped
6 to 8 cloves garlic, thinly sliced
1 teaspoon crushed red pepper flakes
2 large heads escarole, washed and drained, roughly chopped
3/4 cup chicken stock or broth, eyeball it
1 lemon, zested and juiced
Freshly ground black pepper
3 tablespoons butter
1/3 cup grated Parmigiano-Reggiano, a couple of handfuls, plus some to pass at table
Fill a large pot with water, bring to a boil and salt the water. Add the pasta and cook to al dente, with a bite to it.
While the pasta is working, heat a large skillet over medium heat with the extra-virgin olive oil, 3 turns of the pan. Add the pancetta and cook until crisp, about 2 to 3 minutes. Remove the pancetta from the skillet with a slotted spoon to a paper towel lined plate to drain. Ser aside. Turn the heat on the pan back to low then add the sliced garlic and cook until golden brown, 4 to 5 minutes. Remove the garlic chips from the pan to drain alongside the crispy pancetta, reserve. Turn the heat up to medium again, add the crushed red pepper flakes and cook for 30 seconds. Add the roughly chopped escarole, tossing to wilt it in the flavored oil and wilting it into the pan in stages. Once all the escarole has fit into the pan, add the chicken stock, lemon juice, salt and pepper and cook for 2 minutes.
Drain the hot pasta well and add it to the escarole pan. Add lemon zest and toss to distribute. Turn the heat off and add the butter and cheese, toss to melt. Toss in the crispy pancetta and garlic chips. Serve the spaghetti with more cheese to pass at the table.
Notes:
I also skipped the butter (though inadvertently) I can see where it would add great flavor but I did not really miss it.