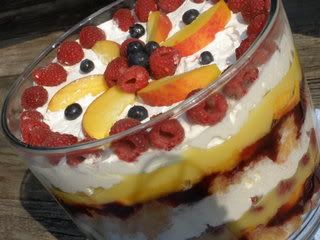 About a year ago I made a lovely Trifle to take to a dinner party. Unfortunately, there was a horrible food tragedy enroute to the party and the Trifle ended up on the floor board of my car. I decided then and there that I would never again make a Trifle unless I would be serving it at the same location that it was made.
Just a few facts about Trifles- They are Top heavy. They are Bulky and I don't know anyone who has space for them in their refrigerator. The make a HUGE mess when spilled in your car!
However, a few months ago I got a package from my Mother that changed my life forever! Ok, maybe I am exageratting just a
little
but I was VERY excited when I found inside the most AWSOME Trifle bowl ever! The pedestal and bowl actually separate and if that isn't enough to make me jump up and down and clap it has lid too! I know, I know, I get WAY too excited about this kind of stuff but let me tell you when you put the time (and money) into making a beautiful dish and instead of getting to present your lovely concoction to the hostess and bask in the praise of OHH's and AHH's and MMM's you have to show up to a dinner party empty handed and spend the next week cleaning custard and whipped cream out of your car (and on every hot day for the rest of the summer you realize you can"t REALLY get whipped cream and custard of carpet), well ....
Now let me start by saying that no one needs a recipe for a trifle. You have cake layers custard or pudding layers whipped cream layers and you can have fruit and/or jelly layers. You can moisten/flavor your cake layers with juice or liquers if you please. So, go crazy, use your imagination! It will be yummy and beautiful!
I have made two trifles in the last couple of weeks. The first was a Peach Melba trifle (similar to the one that haunted me every hot day until I traded my car in last week) and a Blueberry Delight Trifle which only became a trifle when I put it in a trifle bowl. I usually make this in two layers in a 9x13 pan. So if you don't have a trifle bowl you can make it like that and trust me it will tastes EXACTLY the same!
Peach Melba Trifle
4 peaches peeled and cut into slices
1/4 cup Grand Marnier
1 pint of fresh raspberries
4TBS Water
1 1/2 cups seedless raspberry jam
1-16oz pound cake cut into 1/2 in slices
1 large pkg instant french vanilla pudding prepared as directed except replace 1/4 cup of milk with 1/4 cup of Grand Marnier .
1-16 oz container of whipped topping (thawed)
Place layer of pound cake in bottom of trifle bowl. Mix 2 tbs water with Grand Marnier and brush onto pound cake with pastry brush.
Spread 1/2 of jam mixture onto cake, Spoon 1/2 of pudding mixture on top and a layer of peaches and raspberries Repeatlayers arranging fruit in a pretty pattern (I tossed in a few blueberries) Chill for 1 hour
NOTES:
You can replace the Grand Marnier with apple juice or orange juice to moisten the cake and make the pudding as directed on package.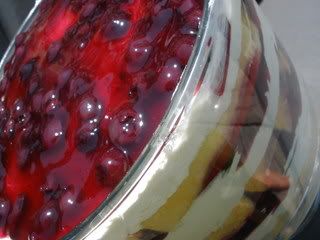 Blueberry Delight
1 pkg Cream Cheese,room temp
16oz container whipped topping thawed
1 cup powdered sugar
2 (Bar type) Angelfood Cakes
2 10z can Blueberry Pie filling
For ease of cutting place the angel food cake in the freezer for a couple of hours (not required but you will thank me). With electric mixer mix Cream Cheese and powdered Sugar. Fold in Whipped topping and mix just until incorporated (don't over beat). Slice cake into 1inch slices and place 1/3 into trifle bowl. Spread 1/3 of the mixture over cake, Spread 1/3 pie filling on top Repeat for 3 layers. Chill for 1 hour.