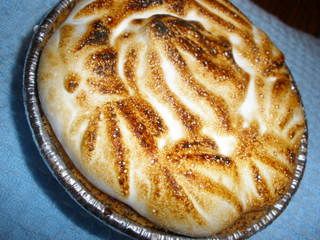 No, this is not a blog about redneck translations I promise! It is also not for the faint of heart or...sweet tooth. This recipe is RICH and VERY sweet! Diabetics, consider yourself warned!
I found this recipe on Smitten Kitchen. Her recipes are always amazing and her pictures are Beautiful! She is also a "real" baker, unlike me. She made every part of this pie from scratch from the actual graham crackers for the crust to the marshmallow topping. Now I have made home made marshmallows before but I draw the line at graham crackers. But for this I decided that the store bought versions would still produce a yummy finish although I am certain that Deb's version is far superior. Forgive me Deb but the filling is the only part I actually made from scratch and it is so ridiculously simple I could hardly believe it. If you are feeling especially creative and want to try your hand at the Real deal S'Mores Pie check out
Smitten Kitchen
. But if you are lazy like me this is pretty tasty too!
I opted to make single serving pies hoping it would help me to moderate my portion control a little bit. I also opted to use half and half instead of heavy cream which made me a little nervous thinking it might not set up right but it worked fine.
This is pretty simple. I did decided to pipe on the Marshmallow cream in order to give it some texture when the marshmallow was toasted. This was incredibly messy but I am pleased with the results. Spreading the marshmallow cream on evenly would also work just fine (and likely you could use quite a bit less cutting down a bit on the incredible sweetness). If you don't have a creme brulee' torch you could place them under the broiler for a few minutes but keep a VERY close eye on them.
S'mores Pie
12 mini Graham Cracker Pie crusts
16 oz Marshmallow Creme
7 oz of Bittersweet chocolate, chopped (I used Ghiradelli 60% Cacao chips)
1 cup Half and Half
1 egg at room temperature
Preheat oven to 350 degrees and place rack in center of oven.
Place mini pie crusts on a cookie sheet. Place chocolate into a bowl. Slightly beat egg in a separate small bowl. In a heavy sauce pan bring Half and half just to a boil. Pour over Chocolate and let stand for 1 minute. Whisk together chocolate and Half and Half then whisk in egg.
Ladle chocolate evenly into pie crusts. Bake for 15 min. Let cool for at least 30 min. Top with marshmallow cream. Brown topping to desired color with Butane torch or under broiler.
Notes:
One deep dish Graham cracker crust could be substituted for mini crusts. Increase baking time to 20-25 min. (It will be still a little jiggly in the center but will firm up as it cools)
Spraying inside of piping bag and tip with cooking spray will make handling marshmallow cream easier to handle.