This past weekend was jam-packed and playing catch-up this week has been the reason I have yet to write about it. I woke up Fri afternoon after just a few hours of sleep (been on night shift) and never stopped till Sunday evening when I fell into bed thoroughly exhausted. I am pleased to say that all of the craziness was purely fun! The highlight of the weekend was an overnight trip to Raleigh which included shopping, cooking for my friends and a night at a "real" night club for nonstop dancing! (Fayetteville is trying, but we still don't have comparable nightlife here)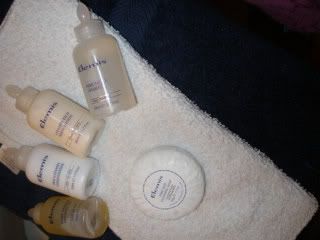 Just like a posh hotel, only better
My friend Josh was an AWESOME host and it was my pleasure to cook dinner for him and my other friends (new and old) in appreciation for that. Nothing is better than enjoying a meal with friends and at someone's home is way more relaxing and intimate than a restaurant. I hate that I did not think to take some pictures of us eating but here we are dancing the night away.
The dish I decided to make is not very fancy but it has an unusual "can't quite figure it out" flavor that is much different from my usual (Mediterranean inspired) style. Though it does not photograph all that pretty, I assure you the flavor makes up for it. I served it with a plain brown rice and Balsamic roasted green beans. It was a hit and the perfect beginning to our evening on the town. I stuck pretty close to the recipe ( I will have to admit I don't remember from where originally got it) The few minor changes I made were just due to things I had on hand so I am going to post the recipe just as it was written.
Don't be scared of the jalapeno with the seeds removed it does not make this dish spicy at all. It just adds another layer of flavor to the dish. Of course if you like spicy then feel free to up the jalapeno.
African Chicken in Peanut Sauce
Adapted from "The Oprah Magazine Cookbook"
Serves 6
Spice Rub:
3/4 teaspoon salt
3/4 teaspoon ground black pepper
1 1/2 teaspoon chopped garlic
1 1/2 teaspoon onion powder
3/4 teaspoon ground cayenne pepper
Chicken:
4 pounds bone-in chicken pieces, skin removed
3 tablespoons vegetable oil
Peanut Sauce:
1 small onion, finely diced
1/2 red bell pepper, seeded and finely diced
1/2 green bell pepper, seeded and finely diced
1 medium carrot finely diced
1 garlic clove, minced
1 teaspoon finely diced and seeded jalapeno chili
4 cups (32 ounces) chicken broth
1/2 cup smooth peanut butter
1 tablespoon tomato paste
1/2 tomato, seeded and diced
1 teaspoon chopped fresh thyme leaves (or 1/2 teaspoon dried)
1/2 teaspoon peeled, grated fresh ginger
1/2 cup well-mixed coconut milk
1/2 teaspoon salt
1/4 teaspoon finely ground black pepper
1/4 cup chopped parsley, for garnish
1. Stir together the spice rub ingredients and rub onto chicken pieces.
2. Heat 1 tablespoon oil in a large nonstick skillet over medium-high heat. Working in batches, add half the chicken and brown on all sides, taking care not to burn the spices. Transfer browned pieces to a platter and set aside. Brown remaining chicken and transfer to platter.
3. With a paper towel, wipe skillet dry; then add remaining 2 tablespoons oil. Add onion, red and green bell peppers, carrot, garlic, and jalapeno chili. Cook until vegetables are soft, about 5 minutes. Add chicken broth and simmer until reduced by half, about 20 minutes. Reduce heat to medium-low, stir in remaining sauce ingredients, and simmer 2 minutes. Return browned chicken to skillet. Cook 25 to 30 minutes, or until chicken is tender and cooked through, stirring frequently to prevent sauce from sticking. Turn chicken pieces over midway through cooking time. Garnish with parsley.