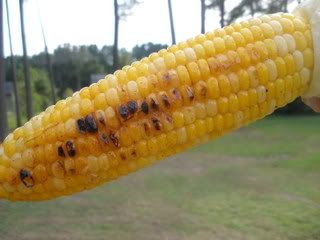 As I am sure you guessed, I did not reveal the full menu of my BBQ to you on the last post. Thought I would stretch it out a little. I didn't want overwhelm you with too much goodness in one post. OK, yeah I was being lazy! Busted!
Have you tried grilling corn on the cob? If you haven't you DEFINATELY should! Grilling really brings out the sweetness in the corn and a little char on it? ...yum! If you already grill your corn hold on. I have a recipe (if you use the term really loosely) for you that will Knock your socks off! Chilli Lime Butter! It takes about 30 seconds to make and takes corn on the cob to a new level. Of course you can put it on corn that you cook by any method but really, try grilling it.
I have seen this several times in different places. I always thought it sounded good but had just not got around to making. I didn't think my daughter would like it but her reaction was something like this "mmph butter ..mmmphf Good Mmph! Translation:Oh man! That butter is really good Mom! (said with her mouth full of corn)
Grilled Corn with Chilli Lime Butter
Corn still in husks ( 1 , no better make 2 for each person)
1/2 stick Butter room temperature (Enough for 8-10 pieces of corn)
Tsp Chilli powder
1 lime
1 tsp lime zest
Soak corn in water for 30 mins.
In a small bowl mix chilli powder with butter. Zest lime with fine grater (microplane works best) Cut lime in half and squeeze juice of one half of lime into butter. Mix well. Set aside. (can be made ahead and refrigerated but bring to room temperature before serving)
Place corn on hot grill for 15-20 mins turning 3-4 times. Husks will be blackened but corn (at most) will only have spots of browning and THAT is a VERY good thing!
Remove Corn from Grill and allow to cool for about 5 mins. Shuck corn and brush with butter. Serve immediately.